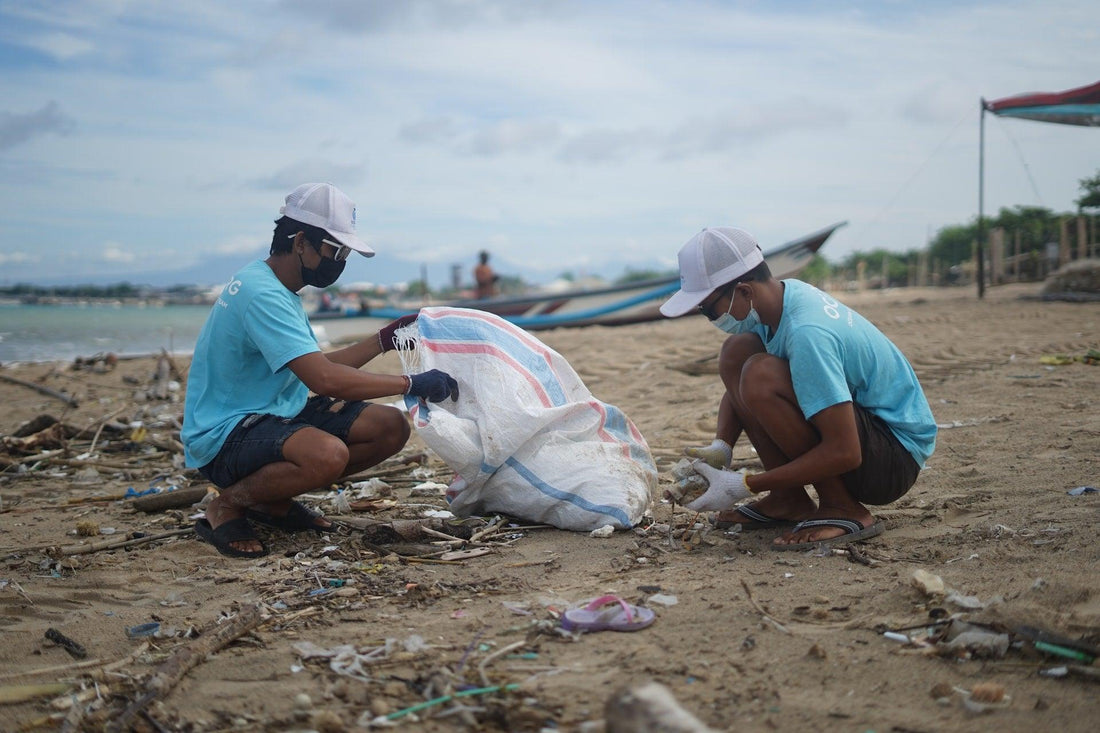 7 Things You Can Do to Fight Plastic Pollution In Our Bodies Of Water
The United Nations-led international climate talks called COP27 wind down in Egypt today after a week of presentations and discussions on how to manage and solve the climate crisis. 
COP27 saw 192 nations from around the world gather to talk about climate action and to set commitments to reduce carbon emissions and ways to clean up the worlds oceans and protect its forests. 
Over 44,000 people registered to attend this years event, including government, business, and civil society representatives.
The secretary general of the UN, António Guterres, set the tone as the threat of war, global warming, and the economic crisis mounted on every continent and disproportionately affected the most vulnerable people in the world.
"We are in the fight of our lives, and we are losing," Mr. Guterres stated this during his opening remarks at the summit in the Red Sea resort of Sharm el Sheikh, Egypt.

The conference's initial days were devoted to creating methods for locating and tracking plastic debris in the world's oceans as well as plans for lowering the quantity of plastic waste that gets into our waterways. There were also discussions about how to improve recycling systems around the globe so that people can better manage their plastic waste at home or work.
Here's a link to an article that goes into more detail about what's going on at COP 27 in terms of plastic and the oceans.
Environmental Impacts Of Plastic
Plastic has a horrifyingly negative impact on the environment, from used fishing nets to tiny plastic beads in cosmetics that end up in waterways, our food chain, and the oceans. Every year, the oceans receive about 38 million metric tons of plastic waste. That is nearly equal to the amount of plastic that would fill 20 Empire State Buildings.
There are currently more than 150 million metric tons of plastic waste in the world, according to the United Nations Environment Programme (UNEP). Our oceans received an estimated 8 million metric tons of plastic in 2015.
The average person generates about 1.5 kg of plastic waste per day, according to the UN Environment Programme, and if current trends continue, this amount is expected to double by 2025. The problem with plastic is that it doesn't biodegrade easily; instead, it breaks down into smaller pieces that are often ingested by marine animals that mistake them for food.
Approximately 75% of all plastic produced in the world eventually becomes waste, which is especially troubling given that plastics are petroleum-based and are frequently illegally burned for disposal.
Every year, Canada generates more than three million metric tons of plastic waste. Only 8% of that is recycled, with the remaining materials either being burned, going to landfills, or harming the environment.
Studies demonstrate that we're looking in the wrong place for a real solution to Canada's plastic waste problem and that it isn't going away. Currently, 4% of our plastic waste is burned, which releases carcinogens into the air, soil, and water. In fact 2030, up to 22% of Canada's plastic waste is expected to be burned, which is commonly referred to as "advanced recycling" but actually harms the environment and is an inadequate response to the plastics crisis.
The Seychelles' island paradise is being suffocated by illegal dumping and illegal burning of plastic as part of "recycling" schemes. "The illegal trade, dumping, and uncontrolled incineration of plastics are negatively affecting the pristine Seychellois ecosystem," said Flavien Joubert, the country's environment minister, who outlined a strategy to prioritize the use of glass on the islands.
Plastic pollution in the ocean harms sea turtles, whales, seabirds, fish, coral reefs, and countless other marine species and habitats. According to scientists, nearly all seabirds and more than half of all sea turtles have consumed plastic at some point in their lives. Even in remote locations like Midway Atoll, plastic pollution devastates otherwise beautiful beaches, coastlines, and once pristine snorkelling and diving spots.
7 Things You Can Do To Help Solve This Crisis.
Everyone can do something to help solve the plastic pollution problem, and millions of people worldwide are already taking action to reduce their plastic use. Here are seven ways you can make a difference, starting today.
1. Lessen The Amount of Single-Use Plastics You Use.
Wherever you live, the simplest and most direct way to begin is to reduce your own use of single-use plastics. Bags, bottles of water, straws, cups, utensils, dry cleaning bags, takeout containers, and any other plastic product that is used only once before being discarded are examples of single-use plastics.
The most effective way to accomplish this is to a) refuse any unnecessary single-use plastics (such as straws, plastic bags, takeout utensils, and takeout containers) and b) purchase and carry reusable versions of those products, such as reusable grocery bags, produce bags, bottles, utensils, coffee cups, and dry cleaning garment bags. Furthermore, by informing businesses that you will no longer be purchasing single-use plastic items from them, you can encourage them to provide alternatives.
2. Support Legislation to Curb Plastic Production and Waste
While individual behaviour change is important, it is insufficient as a way to stop ocean plastic pollution urgently. This is why we need legislation to reduce plastic production, improve waste management, and make plastic producers responsible for the waste they generate.
Here in Canada, the federal government is working with the territories, provinces, and private sector to reduce plastic pollution.
One of these measures calls for businesses to stop importing and producing plastic bags and takeout containers by the end of 2022, selling them by the end of the following year, and exporting them by the end of 2025. Although these steps are positive ones, much more needs to be done.
The 2021 "Break Free From Plastic Pollution Act" was introduced in the United States as a comprehensive federal bill to address the plastic pollution crisis.
Additionally, there are a number of state-level initiatives to pass extended producer responsibility (EPR) laws, which hold plastic manufacturers and distributors responsible for their goods and packaging after their useful lives have passed.
At the international level, hundreds of organizations and businesses are calling on the United Nations to enact a global plastics treaty that would set global rules and regulations that would reduce plastic pollution.
There are a variety of ways that you can support local, national, and international legislation that provides critical solutions to reduce plastic pollution. One easy way is to sign this petition from Oceana and tell your friends and family about it. I did!!!
3. Recycle Effectively
This should go without saying, but when you use single-use (and other) plastics that can be recycled, always be sure to recycle them. At present, just 9% of plastic is recycled worldwide. Recycling helps keep plastics out of the ocean and reduce the amount of "new" plastic in circulation.
Here is a website that provides tips and information on recycling plastic: The Ultimate Guide for How to Recycle Plastic


4. Participate In (or Organize) a Beach, River or Lake Cleanup
To help remove plastics from the ocean and stop them from entering in the first place, take part in or organize a beach or waterway cleanup. This is one of the most direct and rewarding ways to combat plastic pollution in the ocean. You can simply go to the beach or waterway on your own or with friends or family, or you can participate in a local organization's cleanup or an international event like the Global Ocean Cleanup, International Coastal Cleanup or The Ocean Wise Shoreline Cleanup
Want to stop plastic from entering our oceans? Participate in an already scheduled cleanup or volunteer to lead one. All the information you require is on the Ocean Wise Shoreline Cleanup microsite.
5. Support Organizations Doing Cleanup Action
There are now a number of non-profit organizations, such as the Oceanic Society , the Plastic Pollution Coalition, 5 Gyres, Algalita, Plastic Bank, and others, that are working to reduce and eradicate ocean plastic pollution in a number of different ways.
These organizations rely on donations from people like you to keep their vital work going. Even small contributions can make a significant difference!
There are also numerous organizations working hard to clean up Canada's waterways and coastlines. The Coastal Restoration Society is one such group that I particularly care about.
The Coastal Restoration Society is a non-profit organization that works to advance the environmental remediation goals of First Nations, provincial, and federal governments. They are pioneers in large-scale restoration and stewardship projects in coastal communities and inland waterways, and their projects serve as models for long-term frameworks for the development of a professional marine remediation and restoration economy.
In addition to their remediation, their project provides local economic stimulus and supports capacity building in host First Nations communities through meaningful employment and contracting opportunities.
6. Look To Avoid Products Containing Microbeads
In recent years, tiny plastic particles known as "microbeads" have become an increasing source of ocean plastic pollution. Microbeads can be found in some face scrubs, toothpastes, and body washes, and they enter our oceans and waterways through sewer systems, affecting hundreds of marine species.
Check the ingredient labels of your cosmetic products for "polyethylene" and "polypropylene" to identify products that don't contain plastic microbeads.
Not only do your personal products contain microbeads, but every time you wash your clothes, harmful microfibers come off.
We now understand that the major sources of global plastic pollution—along with tire wear and road runoff—are clothing, bedding, and other textiles. These materials shed microplastics in the form of fibres. In the washing machine, friction and turbulence strip and carry away these microfibers, which enter our wastewater and eventually make their way into the environment.
There are a few products on the market that claim to keep microplastics out of wastewater when you wash your clothes. Two of the more well-known options are the Guppyfriend laundry bag and the Cora Ball. We recommend that all our swimwear be washed in a Guppyfriend laundry bag.
7. Buy products that are made from reclaimed ocean plastics.
There are numerous brands that make cool and useful products out of recycled ocean plastics, such as abandoned fishing nets and plastic water bottles.
At 2BODIES SWIM we are passionate about in two things - making woman feel and look amazing, and making the bodies of water plastic-free. We are a sustainable and ethical swimwear company that only uses high quality fabrics made from reclaimed, recycled, and regenerated plastics harvested from the ocean and landfills.

Here's a link to an Insider Magazine article about other companies that use recycled ocean plastic in their products called "11 ocean-friendly companies like Patagonia and Adidas that are removing plastic from our seas and transforming it into cool new products"
Conclusion
So there you have it. Hopefully this post has given you an increasing awareness of for the crisis we find ourselves given you some actions you can take to help.
Buy wise. Wash wise. Recycle wise.

Is there anything I missed? How are you taking climate action!!! All comments and suggestions are welcome!! Taylor